CNET (NASDAQ CNET) and Ziff-Davisí ZDNet (NASDAQ ZDZ) decided to get together at a SoMa (San Francisco lingo for the area south of Market Street) brew-pub, for a little bonding and industry camaraderie over several vats of beer.
Astute observers picked up on the impending fiasco immediately, when a contingent of CNET drones showed up in T-shirts specially-printed for the occasion in an apparent attempt to prove that team spirit exists among CEO Halsey Minor's minions. "It was dreadful," one observer to CNETís arrival exclaimed. "We were expecting a casual get-together, but then this squadron of pale-skinned men wearing tee-shirts made my friend and I think something funny was going on. And their blue business-shirt collars were sticking out from underneath!"
Some of the CNET contingentís artificially-inspired gusto quickly wavered when the team-member who had made the most noise about "keeping it man style" and "trampling the ZDNet competition" unexpectedly bowed out after the first round, with a glazed look in his eyes.
From this point, the scene quickly deteriorated, according to various reports, as the yonks in yellow demonstrated through a series of frat house antics that their main goal of the evening was simple: to grope as many female ZDNet employees as possible. One CNET Gamecenter reporter performed a drunken striptease before handing his sweat-soaked tee to a petrified female ZDNet staffer, while another ZDNet woman fended off requests to bare all in exchange for one of the precious garments. "I felt like I was stuck in the middle of a spring break party gone bad," a ZDNET employee gasped as she fled the bar sobbing hysterically.
Many of the ZDNET employees noticed that CNET chief Halsey Minor, in a move that some took as an indicator of his own embarrassment at his employees' pitiful performance, had ripped off his own gangrene-toned team shirt before he rounded the corner the pub is located on.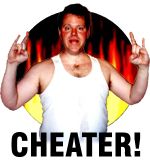 The most startling accusation came, however, days later when a disturbing video of the evening surfaced the most egregious violation of ethics. In the controversial footage, Matt Rotter, self-acclaimed star anchor of the CNET booze team, can be clearly seen drinking before it was his turn in the tag-team drinking event that was the highlight of the competition. "In all my years, Iíve never seen anything like it," a shocked ZDNET manager indicated. "They were 100% frat boy when it came to socializing, but when it came to drinking, they turned tail and ran."
Ironically enough, the incriminating video was circulated by CNET itself.
In light of this, experts are asking some very hard questions of the upstart company. Foremost on everyoneís minds for the time being, though: how many other of these seemingly innocent, but actually mean-spirited cheating episodes has CNET perpetrated that havenít made it to tape?